The companies that NASA has chosen, will develop 'landers' to send astronauts to the Moon's surface in the 2020's.
The White House is determined to send the next man and first woman to the Moon in 2024, and followed by consecutive other missions.
Jeff Bezos' Blue Origin, Elon Musk's SpaceX and Alabama-based Dynetics were selected to work on landers under the space agency's Artemis programme.
The 2024 mission will see astronauts walk on the Moon's surface for the first time since 1972.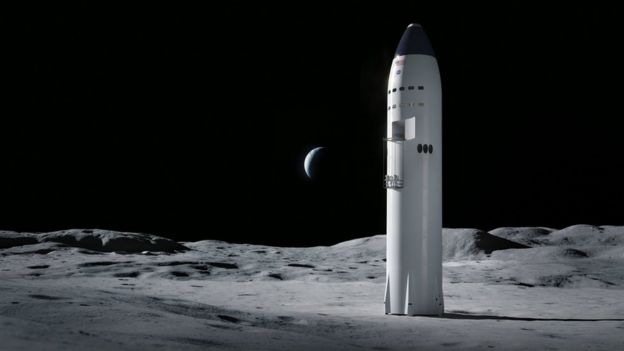 The contracts combined are worth $967m (£763m; €877m) and "will run for a base period of 10 months".
"With these contract awards, America is moving forward with the final step needed to land astronauts on the Moon by 2024, including the incredible moment when we will see the first woman set foot on the lunar surface," said NASA's administrator Jim Bridenstine.
"This is the first time since the Apollo era that NASA has direct funding for a human landing system, and now we have companies on contract to do the work for the Artemis programme."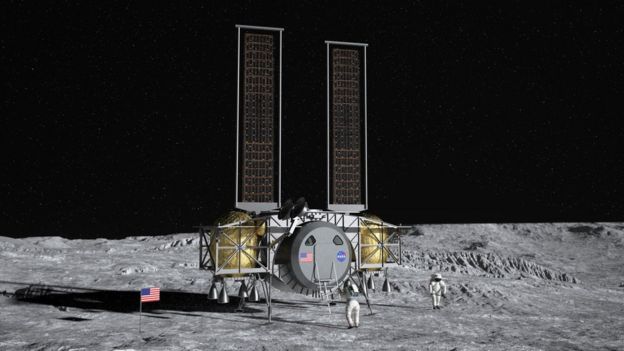 Dynetics' concept is a single unit that will launch on the Vulcan rocket. According to Lisa Watson-Morgan, the human landing system program manager at NASA's Marshall Space Flight Center in Huntsville, Alabama, this design features a "unique, low-slung crew module, putting the crew very close to the lunar surface for transfer and access".
The other key elements in Nasa's Moon plan are further along in their development. Astronauts bound for the Moon will launch from Earth in a capsule called Orion atop a powerful rocket known as the Space Launch System.
This time however, NASA wants to establish a sustainable and long-term presence.
"We're not going back to the Moon to leave flags and footprints and then not go back for another 50 years," Jim Bridenstine said last year. "We're going to go sustainably to stay with landers and robots and rovers and humans."